You are here:
Health & Safety Site Risk Management - 26 July
It is essential organisations manage their H&S requirements in line with the HSE guidance with a management system operating to a standard of HSG 65. It is surprising how many businesses are unaware of the requirements relating to safety documentation and operational tasks that should be reviewed or carried out on a weekly, monthly, quarterly, and yearly basis.
As organisations are required to provide evidence of safety documentation for an inspection, we will also include how to prepare for a visit from the HSE covering the safety documentation required, tasks, and timescales to ensure you are operating in line with current legislation.
This three-part training session is designed to explain the key areas of focus for self storage facilities and details the maintenance regimes required.
The chart below shows the statistics published from the HSE for 2020/21. The session will cover these main areas and how to try to prevent accidents happening. However, should an accident happen, ask yourself "Have we got the correct documentation and schedules in place to defend ourselves in order to protect our business from the likelihood of any prosecutions?".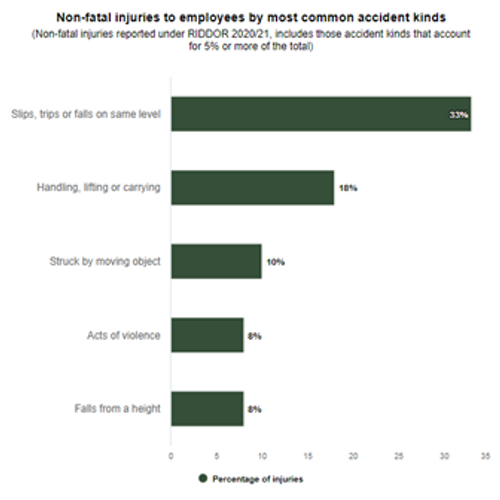 Part One - Warehouse and Yard Activities
What are the minimum requirements for operating forklift trucks?
What Safety documentation should be carried out prior to the use of a forklift truck?

Specific forklift truck risk assessment
Forklift truck safe working procedures
Pre-operational checks of a forklift truck

Accidents that occur involving forklift trucks are predominantly serious and having documentation as evidence is vital in the insurance process. Ultimately, the aim is to prevent accidents form occurring, but should an accident happen, do you have the documentation in place to defend your position?
Loading and unloading vehicles - what documentation do your customers need?
Operating goods lifts, gates, and shutters…

Do you have maintenance schedules in place via qualified external contractors with documentation for evidence?
Do you have risk assessments and safe working procedures in place?

Pedestrians and traffic

Is it clear for visitors or staff on the designated walkways? Is there a clear procedure for pedestrians when a forklift truck is operational? Is there segregation. we need to consider all these aspects within the facilities.
Is there a traffic management system in place, how are you controlling traffic and pedestrians on your site?
Part Two - General H&S Activities
Slips trips and falls form 33% of all accidents within the workplace:

Have you got a risk assessment in place?
Do you undertake regular walk around inspections?

Manual Handling accidents form 18% of all accidents within the workplace during 2020/21. This is a common theme year on year.

Have you got a manual handling risk assessment as required by law?
Do you need to undertake specific on-site manual handling training for staff as a result of the risk assessment?
Do you have a safe working procedure for manual handling that forms part of the induction process?

How do you report accidents? How can you improve the process?
Do you know what RIDDOR is and that if a certain accident occurs it needs to be reported online to the HSE by law?
Staff training is key whether this relates to new starter inductions or forklift truck licences so all staff should be trained for the activity they are performing.

What is a training matrix?
Do you have one?

Do you have the HSE poster on display?

Is it filled-in correctly?
Would any other posters help staff as a visual guidance?
Part Three - H&S Activities/Tasks – Buildings
As a part of the insurance process, we carry public and employer liability. If we were to go to market and look at alternative quotes from insurers, they would want to carry out a liability survey, which in essence is some risk profiling on the business. Some of the questions they ask.

Is the risk attractive for the insurer to provide terms?
Are there likely to be any claims?
What condition is the building in, and do you have maintenance checks and schedules?
Do you have stringent H&S documentation and regimes?
Are you compliant with the insurer's warranties?
If we can happily answer these questions with evidence, then we place ourselves in a better position in the marketplace to gain best possible terms.

Do you vet your sub-contractors?

Do they have their own insurances in place?
Have they got risk assessments for the activities they are carrying out?

Electrical

Do you have up to date PAT testing

What are the requirements?
What's the misconception it is no longer a legal requirement?
How often should you be doing it?

Do you have an up-to-date Fixed Wire Certificate?

Has this been carried out in the last 5 years?

Fire safety - what are the requirements?

Fire risk assessments
How often do you need to do checks?
Do you have an external contractor checking the alarm annually?
Do you have fire wardens?
Do you have safe working procedures in place?

Security and Lone working is key within self storage facilities as customers may have access at different hours and staff often lone work.

Do you have policies and procedures?
What could you do better?
Do you have risk assessments in for?

Lone working
Violent and confrontational situations
What security measures do you have and are they documented?
Learning outcomes
An understanding of the H&S requirements and documentation
Knowledge of the evidence required following accidents and incidents to assist with mitigating these risks
Knowledge of the current standards and codes of practice which relate to these facilities and the detailed maintenance regimes which apply
Improved understanding of the H&S process both with safety documentation and the physical checks and tasks required
What to do in the event of an accident
A full understanding of the RIDDOR process
This session is designed to create awareness of health and safety and is not intended to make you a 'safety expert'. However, it will ensure you are up-to-speed with your ongoing responsibilities, the practical actions needed and the knowledge and tools to tackle relevant safety issues as an integral part of the day-to-day management of your facility. We will also cover the potential consequences should you get it wrong.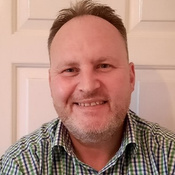 Simon Morton
Simon is a Health and Safety consultant at Safety 2 Business based in Stockport. He has a wealth of knowledge and experience gained throughout his career working in a wide variety of industries including manufacturing, food production, hospitality and catering as well as being a civil servant for 20 years. Simon is passionate about ensuring the health, safety and wellbeing of all employers, employees, and service users whatever the size of business or organisation. Simon has a client-based portfolio across the UK and carries out H&S consultancy, H&S / fire safety inspections that include fire risk assessments and provides advice to businesses to ensure compliance with the Regulatory Reform Fire Safety Order 2005.